The Siren Data Intelligence Platform
Sometimes, the answer to a very important problem can be simple: the name of a suspect, the formula of a new drug, the digital signature of a cyber threat. While the answer may be simple, the investigation process is generally complex and unique each time. Today we have amazing Open Source big data technologies – each having its sweet spot:
Hadoop and Spark for processing & machine learning;
Elasticsearch to search & drill down instantaneously on billion of records instantaneously.
But for those important problems, individual Big Data functionalities are of no use. The goal is Data Intelligence: being able to ask questions you have never asked before, having the confidence that the data is understood as a whole.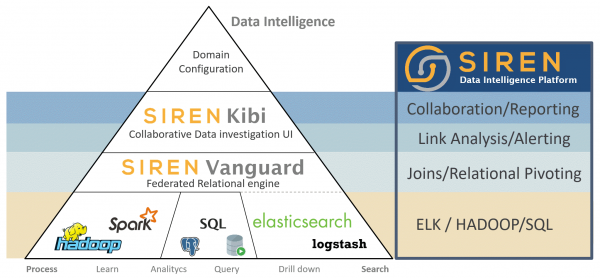 The Siren Platform builds on top of the popular Elasticsearch stack adding an ultra fast cross index and cross-system joins as well as graph database capabilities.
Siren Kibi – Overview
Kibi is a Siren frontend for interactive, exploratory big/streaming data discovery & alerting, targeting scenarios where datasets are interconnected.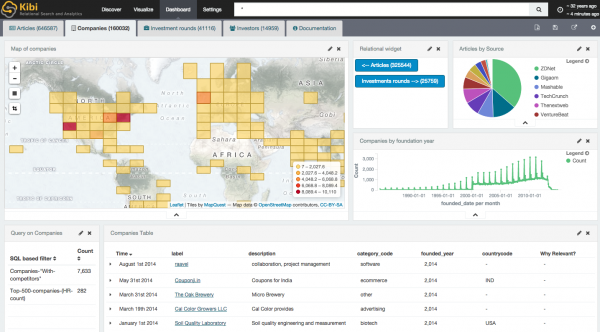 Kibi has customers across many sectors ranging from Life Science, to IP Security, to Homeland Security, IOT and Financial, using Kibi to make sense of their Big Data Lakes and gain insights thanks to the never before available integration of:
Full-text Search Engine – with support for misspellings and phonetics;
Business Intelligence and Scientific visualisations;
Relational "set to set" navigation and drilldowns: Pivot operation across connected Big Datasets;
Graph/Temporal Relational Link analysis and Inference.
Relational Drilldowns – Across indexes, across systems
Possibly the biggest innovation of Kibi is the unique "Relational Drill Down" capabilities (See our screencasts on http://bit.do/kibiscreencasts). Backed by Siren Solutions proprietary ultra-optimized Join technology for Elasticsearch "Enterprise Search Bus", Kibi can provide real-time relational analysis across indices and across external, non-Elasticsearch systems (SQL, REST APIs etc).
Furthermore, at each step of the relational navigation (also called "set to set" navigation), Kibi can visualise and drill down using a variety of tools ranging from Fulltext search to BI and Link analysis.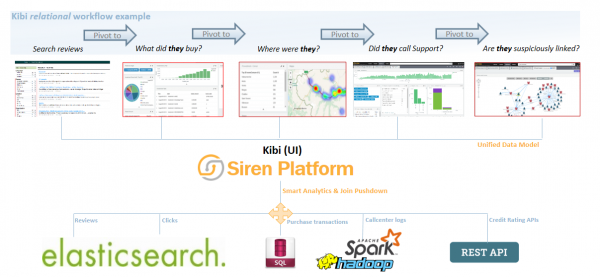 Temporal Aspects
Time might be just another variable in your data, but it deserves top of the line visualisations and tools. Kibi Temporal Analytics components show connected events coming from one or multiple indices in a single zoomable view. Kibi can cross boundaries of indices and backends and investigate how events and entities connect together. Furthermore, thanks to Kibi's  "relational filtering" feature, one can see time placements of events related to not only a single entity, but also to a group.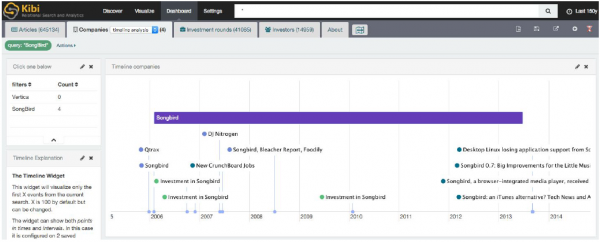 Graph Analytics – See everything interconnected, anytime
Sometimes events and entities are better understood via a study of how they connect together in a "graph". Kibi incorporates some of the most advanced graph interactions tools available on the market to deliver a scalable, smooth and interactive graph analytics capability. There is no need for a separate graph data store: Kibi backend expose the popular "Gremlin Graph APIs" and Kibi Frontend allows investigators to switch anytime from regular data exploration to "Graph Mode" and back.
The result is the ability to unveil complex cross-entity connections and investigate leveraging graph intelligence tools and methodologies alongside the other unique functionalities of Kibi.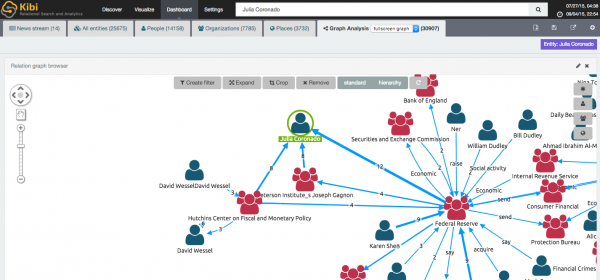 Graph analytics includes top of the line advanced functionalities among which is animated graph evolution over time and space. And one click Graph-Entities-to-map function.
Statistical Graph Inference – Auto-Discovering the missing links
Not all things that should be connected actually have obvious and stated "relational graph" connections. Kibi leverages Elasticsearch big data analytics capabilities to allow explorations of entities which are connected by a high level of "co-occurrence" or with more sophisticated algorithms such as the Weighted Significance Auto Discovery which automatically makes just the most significant connections emerge.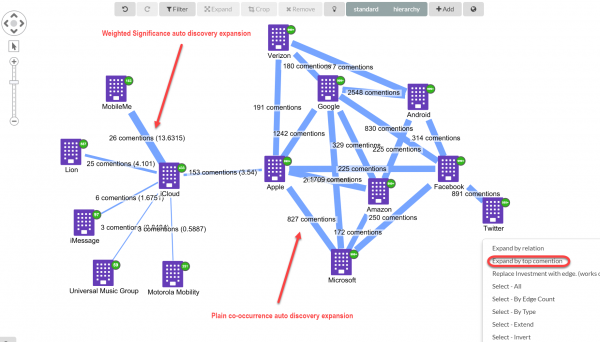 Scientific Analytics – Kibi Life Sciences Edition
Kibi comes with a set of components that are fit for scientific data visualisation. Among this are big data/interactive speed scatterplots, heatmaps, probability density functions and several other visualisations which are key in the advanced quantitative analysis.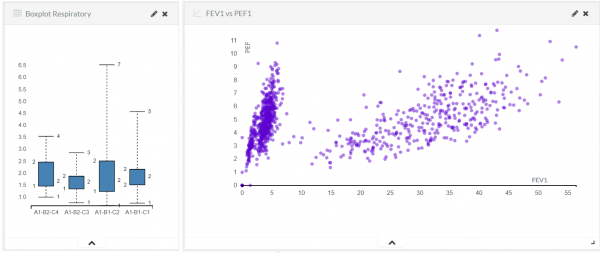 Access Control, Encryption, Integration with LDAP & Active Directory
Kibi Enterprise Edition comes with built-in Access Control – at Index, Record or Field thanks to Search Guard, elasticsearch security Solution bundled with Kibi EE.
It can handle standalone users via its integrated UI or integrates with existing LDAP & Active Directory for individual or role level access control also at individual UI elements ( Dashboard, visualisation, saved search ). End to End Encryption is default covering from the UI to inter-cluster communications.
Alerting and Reporting
Receive Alerts and Reports (PDFs in your Email) with logic ranging from simple queries to advanced CEP scripts. Also, includes immediate UI integration.In the following screenshot, an operator wants to receive an Email when a new NASA article appears: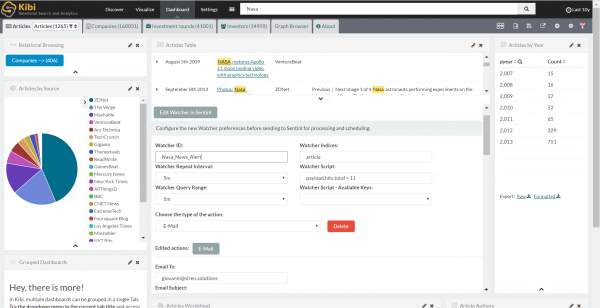 Rooted in Open Source, Write your own extensions and plug-ins
Kibi is rooted in Open Source, integrating and extending the latest available version of the "Kibana" and "Elasticsearch" software components. On top of this Kibi also offers an Open Source community edition and makes some of its component available to Kibana users, as a result, Kibi enjoys a very vibrant overall community of Open Source committers.
Built to be compatible with the Kibana Ecosystem, Kibi offers the highest possible extensibility in terms of plugins. Plugins can be freely developed by third parties. Many exist already, developed originally for Kibana, and new ones can be developed easily thanks to the many tutorials and examples that can be found on the Web. On top of the standard Kibana plugins, Kibi offers the ability to write scripts (e.g. Graph Transformations) and plugins using its own specific API and scripting functionalities.
Enterprise Deployment
Ease of deployment and maintenance via Docker support and more – Please enquire for other Enterprise Deployment options.
Vertical Editions
In the course of 2017, Siren Solutions will be launching specific Vertical Editions.
Kibi Vertical Editions dramatically shorten deployment time and increase the overall solution value by providing domain-specific pre-configured data ingestions, dashboards, alerts, OEM companion components and more. Among these are:
Kibi Life Sciences Edition (Q2 2017)
Kibi Security Analytics (Network/IP/Threat Intelligence)
Kibi Investigate
Kibi Telecom
Kibi Security Analytics, Beta screenshot: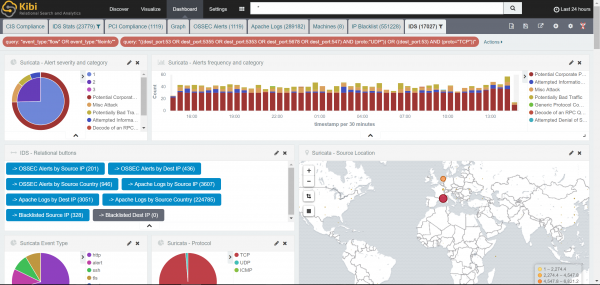 More Resources
Please visit the following resources for videos and more information on Kibi:
Siren Solutions YouTube channel:
http://youtube.com/c/SirenSolutionsChannel
Kibi homepage:
https://siren.io/
Our Newsletter:
https://siren.io/
Our Blog:
https://siren.io/blog/