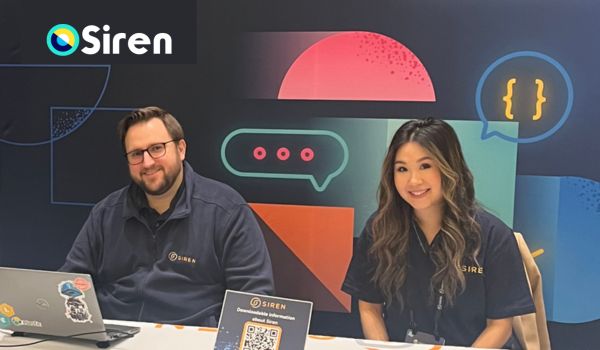 Because Elastic is not only a partner but also forms an integral part of our product, the Siren crew showed up in full force at ElasticON, the Elastic Public Sector Conference in DC. The event reinforced for me why Siren not only "runs on Elasticsearch" but is a trusted offering in Elastic's Public Sector ecosystem of partners. I was reminded that, for the last two years, Elastic was the leader on Gartner's magic quadrant for insight engines. Shay and Ash provided a keynote history lesson that somehow gave me flashbacks of my early career, a career which has intersected with Elastic many times.
In 2016, I was first onboarded into Elasticsearch. We were transitioning from using Lucene to Elasticsearch to create a forensic data warehousing product. Elastic was a little rough around the edges back then, in version 2.2, in terms of truly supporting investigation platforms powered by their technology. I had no idea just how much Elastic would evolve from an open-source re-engineering of Lucene to a technology leader in search.
As fate would have it, I find myself now deeply involved with Siren, the product which was repeatedly referred to as the go-to solution for public safety and knowledge graphs at the event. Knowing the secret sauce of both Elasticsearch and Siren really puts me in a position to say that the Siren platform is not only a preferred solution but the only investigative product in public safety and risk that uses Elasticsearch to its full potential. In a recent article Siren Co-Founder and Chief Scientist, Renaud Delbru, explains our recent patent of aggregated relations in investigations, something we accomplished with Elasticsearch as our sole data store.
I got to spend some time at the Elastic's expert sessions, attending the keynote presentation and a handful of valuable content offered on stage.
Some takeaways for me as they relate to Siren:
"Ingest Everything" is now officially a thing; which to me translates to "Investigate Everything" in Siren.
Elastic's Observability offerings always satisfy, now powered with their AI. Using Siren with Elastic now means your investigative platform, the data, and everything related including the kitchen sink is well monitored and included in your Siren license.
Microsoft Azure showed how Azure adds not only cloud infrastructure for Elasticsearch but a full technology universe for public safety and public sector. Siren can concur to how valuable Azure is in public safety and has streamlined Siren implementations.
Vector Search is something that Siren could harness for Elastic Cloud customers. I loved the presentation and it makes me optimistic about how Elastic has evolved from the dreaded "Lucene Syntax" and "Elastic DSL" to human centric search behavior.
Elastic confirmed their commitment to working with partners in the Public Sector and their product roadmap continues to support and complement platforms like Siren.
For those who visited us at our table, thank you! The whole Siren team truly enjoyed the productive conversations with customers and Elastic staff. We look forward to continuing this journey with Elastic as a trusted OEM partner and member of the Elastic Public Sector ecosystem. Learn more about the Siren platform here.