Hi all, we're very very happy to announce Kibi 4.5.3-3 in both Community and Enterprise edition.
On top of all of Kibana 4.5.3, see some of the new main features exclusive to Kibi below.
CVS Export is here
CVS Export has been an awaited feature in Kibana 4 since basically when it was born, but it won't be available until Kibana 5 is out (requiring ES 5 etc) – and consequently Kibi 5.
Kibi 4.5.3 cuts the queue and will make happy all those that wish to export small to mid-size data (up to 10,000s lines) e.g. to Excel spreadsheets.
For these folks, the Kibi table now has an export button, which works… Just Fine.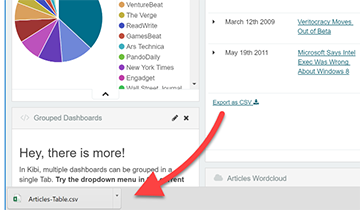 Cross Dashboard time syncronization
What transactions where made during that same email investigation week? Which of the 10 router produced the most logs during those 10 minutes?
Which articles this year mentioned companies also founded this year (relational+cross filter)?
Whatever you are using Kibi for, this is a handy feature, available in the time filter panel.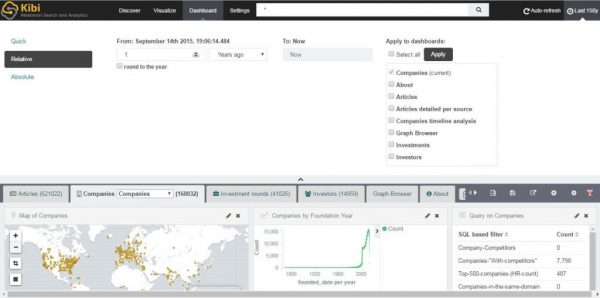 Filter Situational Awareness: introducing filter tab indicators
We now have funnel icons that indicate when a target join dashboard is not showing "all" the records for any reason.
In the screenshot below, you know that those "163" companies you're going to get if you press the button are not really from "all the companies".
Instead, the funnel is telling us that the companies dashboard contains a filter already so the set it will be joined to only has 3060 companies at this time.
(This might or might not be what the analyst wanted, so good to be aware of this).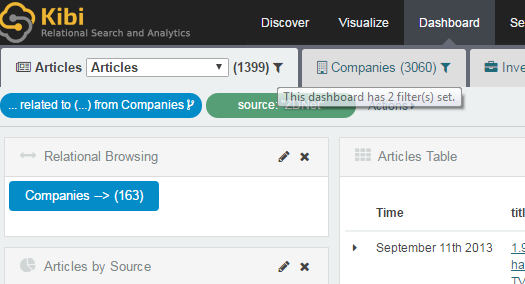 Also new in 4.5.3
Support for object migration from previous Kibi (now starting from 4.4.2) – this will now be a standard Kibi feature.
Upgraded ElasticSearch version to 2.3.4, imported all new Kibana features up to 4.5.3
Various bug fixes, stability, performance and documentation improvements
Scalability improvements and added advanced option: kibi: graphMaxConcurrentCalls [Enterprise Edition only]
Added more graph scripts to Graph Browser [Enterprise Edition only]
Don't miss our Graph Analytics feature Webinar today!
One of the features of Kibi Enterprise Editions is Graph Analytics.
We have been invited by Keylines – provider of the amazing commercial graph analysis library that Kibi embeds – to give a webinar on Kibi and this feature,
Today 6PM CET, 5PM BST
More about it in our latest blog post and register HERE.
Make sure to register even if you cannot make this time, we'll send a recording to all registered people.