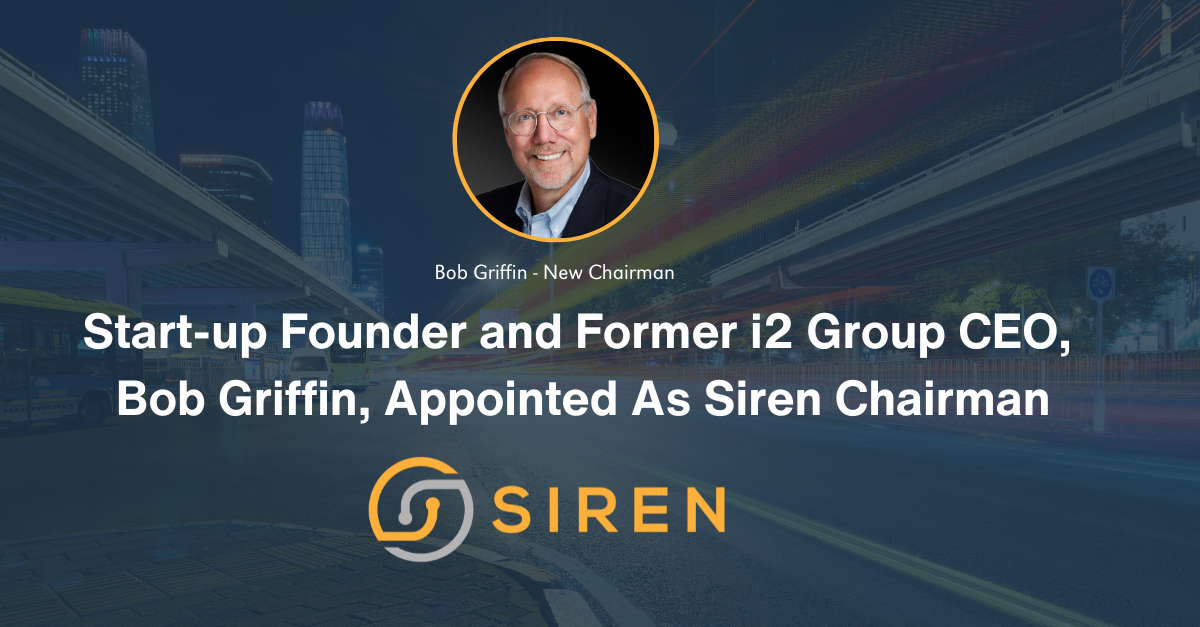 GALWAY, IRELAND, May 5, 2023 – Siren, the investigations technology company on a mission to keep people, assets and networks safe, today announced that Bob Griffin, an expert in the industry and former CEO of i2, has assumed the role of Chairman of Siren's Board of Directors. Griffin first joined the Siren board in 2019. In February 2023, Siren received EUR 12 million funding from the European Investment Bank.
Griffin has extensive experience in intelligence and law enforcement software. He was the founder of Coplink and was responsible for the merger of Coplink and i2 Group, two of the most significant technology companies in Public Safety, Intelligence, Defence and Commercial Investigations. Bob subsequently became CEO of i2 and led the company through acquisition by IBM, becoming IBM i2, the world's most deployed intelligence and law enforcement software. Bob Griffin remained the head of IBM i2 for over four years until 2015, later taking the role of General Manager for Safer Planet – Smarter Cities, an IBM initiative capitalizing on new technologies and insights to provide a high quality of life and vibrant economic climate through intelligent resource management and participatory governance. Prior to joining the Siren board Bob was CEO at Ayasdi now SymphonyAI Sensa.
Bob is a former member of the Board of Directors for the Intelligence and National Security Alliance (INSA), a member of the Board of Directors for the National Cyber Forensics and Training Alliance (NCFTA), and a member of Cyber Advisory Board for the Daily Cypher Brief.
Bob Griffin, Chairman of Siren, said of his appointment: "I have reached the stage in my career where nothing gives me greater pleasure than to work with technology for positive outcomes and for the greater good of humanity. I have been an advocate for using technology to fight against crime and recognize that the promise of technology moves faster than the speed of threat. As Siren Chairman, I am delighted to have the opportunity to share the leadership lessons I have learned growing multiple companies in this unique and challenging industry. I'm most impressed with John Randles, the team, and of course the technology. It's exciting what we can achieve."
John Randles, CEO of Siren, said: "Bob is an absolute domain expert and knows the industry inside-out. Having him as Chairman will greatly help us as we scale. He's done what we're doing here at Siren numerous times before and in the same industry. He'll help us to avoid mis-steps, be a mentor for the leadership team, and advise us as we augment our board for the future."
Griffin's appointment comes off the back of a record year for Siren. The firm reported 162% revenue growth, it achieved its first patent with four additional pending, established a brand new headquarters in the Galway Innovation District and was acknowledged in the Deloitte Technology Fast 50 as one of the fastest growing companies in Ireland.
Ian Shearer held the role of Chairman prior to Bob Griffin and since the company's inception. Ian will remain on the Siren board and take the role of Senior Independent Director.
Siren provides an advanced intelligence platform to law enforcement agencies and organizations responsible for maintaining public safety around the world. Siren allows investigators to make complex searches, organize the results visually and create advanced reports to share findings with their teams. Large Corporations use the platform to protect their assets and networks against fraud and cyber threats.
# # # #
About Siren
Siren is a complete investigation solution, safeguarding people, assets and networks. Siren fuses data from open source, vendor and classified sources allowing analysts and investigators to analyze risks, threats and crimes for the National Security, Public Safety, Fraud and Compliance, and Cyber Threat communities. Siren's patented technology is uniquely search based providing the user with easy to use search, analytics, visualization and reporting capabilities for investigations on all data types at all scales of data volume.
In November 2022, Siren was included in the Deloitte Technology Fast 50. Siren was named as a Gartner Cool Vendor in an Analytics and Data Science Report in 2020. For more information, visit www.siren.io.
Media Contact:
Darren Cottom
Crow Public Relations
+44 (0) 1295 713172
+44 (0) 7713 652216
media@siren.io