Technology to Combat $150 Billion Human Trafficking Industry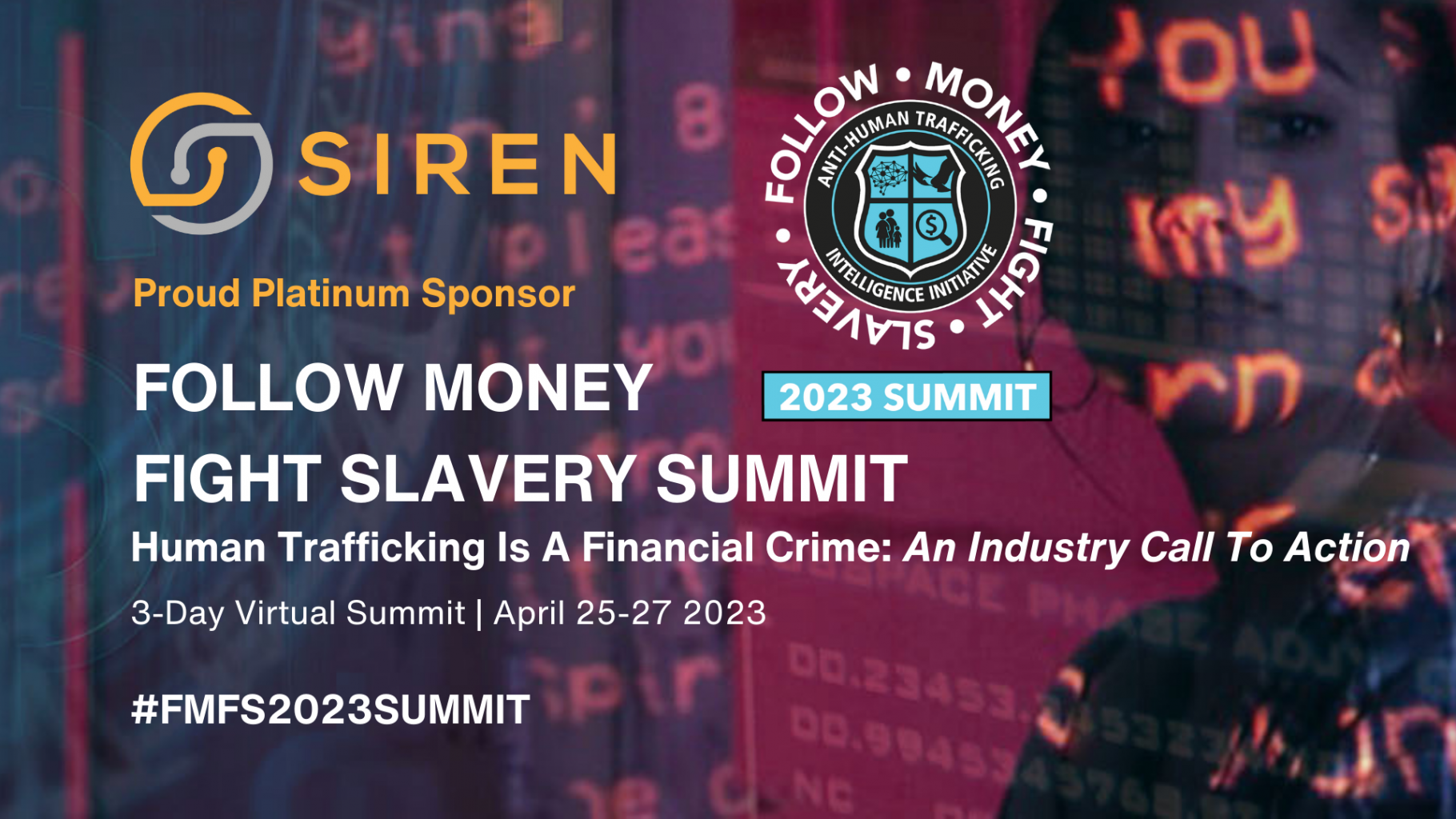 GALWAY, IRELAND, April 20, 2023 – Siren, the investigation technology company on a mission to keep people, assets and networks safe, is this years Platinum Sponsor of the virtual Follow Money Fight Slavery Summit, hosted by the Anti-Human Trafficking Intelligence Initiative (ATII), April 25-27th 2023. Those wishing to attend can register for free at followmoneyfightslavery.org
Now in its third year, the conference brings together BSA Officers, Financial Crime Investigators, Compliance and AML, Regulators, Law Enforcement, Cyber Security Professionals, and Cryptocurrency Industry Leaders to promote corporate social responsibility through following the money to fight slavery.
The event consists of a two-day summit and a half-day Trust and Safety Symposium. Attendees will hear from industry thought leaders who will discuss the importance of why it's time for financial institutions to act against human trafficking. Topics covered will include Tech for Good Against Human Trafficking and Child Exploitation and Dark Web Intelligence.
John Randles, CEO of Siren, said: "Siren is proud to sponsor the Follow Money Fight Slavery Summit. We are in the business of providing technology which identifies patterns to identify and disrupt human traffickers. For more than a year, the Anti-Human Trafficking Intelligence Initiative has been using our platform to expedite the process of ending trafficking operations. We are fully committed to working alongside ATII in the fight against modern slavery."
Bob Griffin, member of the board at Siren, former CEO of i2 and Tech For Good Panel speaker on 26th April added: "I have been using technology as a weapon of choice in the fight against human trafficking since 2009 as the promise of technology is that it can move faster than the speed of threat. My eyes were opened to this disturbing industry during my time at i2. Nothing gives me greater pleasure than to advocate for this industry call to action and spread awareness. I am very much looking forward to the Tech For Good discussion on 26th April."
"Siren will be an instrumental partner in helping us promote corporate responsibility within the industries we serve. As public and private organizations continue to collaborate in the creation of a uniform front within the financial sector to fight human trafficking, we will see a true impact in the recovery of victims and prosecution of traffickers," Aaron Kahler, Founder and Chief Executive Officer AHTII stated.
Larry Cameron, Chief Information Security Officer, at ATII said: "We are changing the way we work as we don't want to keep on exporting data sets, we want all of our data on one platform, we also want to have the data automatically updated and consistently enriched. This enables our taskforce of 140 people to investigate more effectively. Siren allows us to expedite the process of identifying traffickers and ending trafficking operations. For us, Siren is a massive step forward in the fight against human trafficking."
The collaboration with ATII is part of Siren's Data for Good initiative. By ingesting data into the Siren from its dark web intelligence platform, Project Hades, ATII can connect data from multiple sources in order to make links. ATII can therefore conduct investigations in bulk and define different anomalies, enabling it to triage investigations more efficiently and differentiate between important and urgent cases. By using Siren, ATII can deploy selectors more efficiently, integrate multiple APIs and overcome historical data processing issues. Crucially, it can scale, automate and enrich data via the platform.
The majority of human traffickers attempt to use legitimate firms to conduct illicit financial transactions. An analysis of documented trafficking in the United States showed how financial services firms provide banking and money services business to several industries known to have some degree of human trafficking risk. In fact, 75% of financial institutions admit they aren't confident in identifying human trafficking in customer transactions.
As traffickers become more sophisticated, it is widely recognized that companies must employ new data-driven measures to prevent, detect, and respond to human trafficking. ATII combats global trafficking by leveraging corporate social responsibilities directly through anti-human trafficking program development, facilitating awareness, targeted data collection, technology integration, and sourcing actionable intelligence.
Siren provides an advanced investigations platform to law enforcement agencies and organizations responsible for maintaining public safety around the world. Siren allows investigators to make complex searches, organize the results visually and create advanced reports to share findings with their teams. Large Corporations use the platform to protect their assets and networks against fraud and cyber threats.
About Siren
Siren is a complete investigation solution, safeguarding people, assets and networks. Siren fuses data from open source, vendor and classified sources allowing analysts and investigators to analyze risks, threats and crimes for the National Security, Public Safety, Fraud and Compliance, and Cyber Threat communities. Siren's patented technology is uniquely search based providing the user with easy to use search, analytics, visualization and reporting capabilities for investigations on all data types at all scales of data volume.
In November 2022, Siren was included in the Deloitte Technology Fast 50. Siren was named as a Gartner Cool Vendor in an Analytics and Data Science Report in 2020. For more information, visit www.siren.io.
About Anti-Human Trafficking Intelligence Initiative (ATII)
Based in the United States, ATII, a not-for-profit organization, established in 2019, operates globally to combat modern slavery by leveraging corporate social responsibilities directly through anti-human trafficking program development, facilitating awareness, targeted data collection, technology integration, and sourcing actionable intelligence. They aim to disrupt the market of human trafficking, child exploitation and child sexual abuse material (CSAM) through the advancement of preventions, detection, investigation and reporting mechanisms. ATII is committed to raising awareness and developing strategic partnerships with intelligence, technology, and data leaders. Learn more at www.followmoneyfightslavery.org.