Market Leading Technologies Partner to Increase Corporate Transparency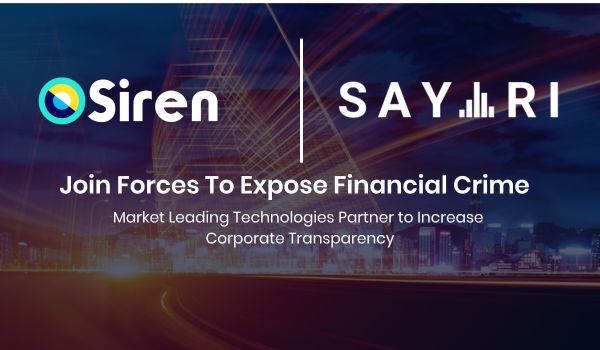 GALWAY, IRELAND, December 13, 2022 – Siren and Sayari have combined capabilities to help organizations expose financial crime and better meet customers' evolving needs for financial data intelligence. Siren and Sayari provide market leading solutions for Anti-Money Laundering (AML), identifying illicit actors such as Russian oligarchs, kleptocrats, and drug traffickers, and undertaking corporate data investigations.
John Randles, CEO of Siren, said: "Both companies have a similar vision – we provide technology to enable the good guys to win, ensure the bad guys can lose and ultimately keep our communities safe. Sayari has an excellent global intelligence pedigree. I believe that the combined offering will bring organizations unparalleled peace of mind."
Fraud, insider threats and managing risk are huge issues for corporations globally and companies have been struggling with the scale of these challenges. The combination of Siren's powerful investigative search capabilities and Sayari's unique data provides a timely solution to combat financial crime worldwide. Customers can now instantly investigate risks, threats and crimes on a single unified platform.
"This partnership reinforces our joint dedication to the mission of uncovering risks and advancing transparency through data and technology," added Farley Mesko, CEO and co-founder of Sayari. "Siren's ability to onboard and process the unique data in Sayari Graph will help support a wider range of global mission sets, and we look forward to offering these capabilities together."
Sayari connects key commercial networks and relationships sourced from global public data. By providing instant access to non-obvious connections, Sayari helps investigative teams eliminate information gaps, expose hidden risks, and empowers organizations with worldwide transparency at scale, paving the way for safer global commerce.
Siren has worked with a range of large corporations in Banking, Insurance, Retail, Big Tech, and Consulting to root out fraudulent activities internally and externally. Siren's ability to rapidly onboard structured and unstructured data, process data with Entity Resolution and NLP and provide Graph Algorithms out of the box all contribute to achieving rapid results in the fight against financial crime. Siren's investigative search capabilities allow analysts to blend traditional and new intelligence disciplines into a single view, giving analysts the edge that they need. The platform is used worldwide as a key component in investigative solutions, search and discovery efforts.
About Siren

Siren is a complete investigation solution, safeguarding people, assets and networks. Siren fuses data from open source, vendor and classified sources allowing analysts and investigators to analyze risks, threats and crimes for the National Security, Public Safety, Fraud and Compliance, and Cyber Threat communities. Siren's patented technology is uniquely search based providing the user with easy to use search, analytics, visualization and reporting capabilities for investigations on all data types at all scales of data volume.
In November 2022, Siren was included in the Deloitte Technology Fast 50. Siren was named as a Gartner Cool Vendor in an Analytics and Data Science Report in 2020. For more information, visit siren.io.
About Sayari
Sayari empowers government and industry to protect systems of finance, trade and security by illuminating global commercial networks through connected public data and documents. Providing commercial intelligence data from over 250 jurisdictions worldwide, Sayari delivers the entity network visualizations and intuitive risk identification that decision makers need to stay proactively informed and power safer global commerce.
Since its founding in 2015, Sayari has earned the trust of top financial institutions, Fortune 100 corporations and government agencies, securing a $40M Series C in 2021. Sayari is headquartered in Washington, D.C., and its solutions are used by more than 3,000 frontline analysts in 35 countries.
To learn more, please visit sayari.com.
Sayari Media Contact:
Lindsey Godbout
lgodbout@rhstrategic.com