Hi all! We're very very happy to announce Kibi 4.6.3, first version of 2017, available in both Community and Enterprise editions. This version is compatible with Elasticsearch 2.4.x, inherits all that is in Kibana 4.6.3, but most of all adds a number of new features to set Kibi for an amazing 2017.
"Kibi Grade" built in Encryption, Authentication, Access Control, Alerting & Reporting
Up to today, Kibi required Elastic X-Pack for Access Control & Alerting. While integration with X-Pack is still supported, we were limited in extending it to support the full Kibi feature set (multi dashboards UI, Joins/External Datasources, Gremlin Graph queries).
We're very happy to say that today we're rolling out a full set of Kibi specific Open Source components to address Kibi access control and alerting needs and support its 2017+ roadmap.
The Security Component
We're delighted to say that Kibi EE now supports (and ships with) Elasticsearch security based on Search Guard by Floragunn GmbH.
Search Guard is a completely independently written, open source, security product compatible with Elasticsearch and Kibana which provides transport encryption, authentication, Index, Document and Field Level access control. Kibi EE also includes all Search Guard Enterprise add-ons such as integration with LDAP and Active directory, Audit logging, Rest Management API and more.
Want to give access to Joe only to the logs that have a field value "country" = UK? How about giving access to Mary to the "Employee" table but not the "Salary" field? All easily doable.
… to which Kibi adds a great UI!
We are very glad to say that Kibi Access control eases the security configuration process by providing a plugin for managing roles and users; check it out below:
"Kibi Grade" graph boost: timeline & graph analytics
We're quite excited to announce that from this version we're rolling out new highly sought after relational graph features:
Timeline analytics: see how the network evolves over time, filter entities and relationships based on their date.
Graph to Map analytics: display entity with geo fields over a map.
Hardware accelerated rendering for large graphs on modern browsers.
Check the new features in action on our demo dataset:
And here's a screenshot of the Graph browser from a Kibi IP Security deployment: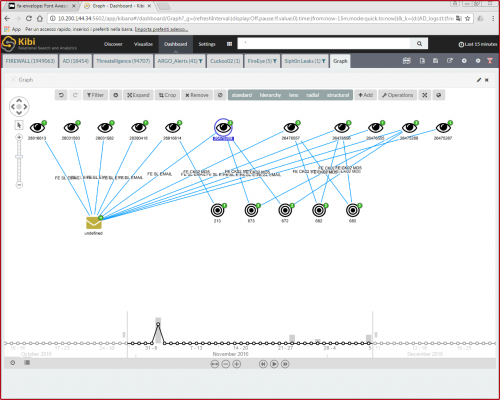 And statistical of course…
And did you know? Kibi does statistical, co-occurrence/significant terms graphs too. It's just a simple script you can customize as needed for your domain.
What are the top companies SIGNIFICANTLY mentioned with iCloud? Notice that Apple is significantly connected, obviously, but not as much as some direct competitors. Powered by the powerful Elasticsearch significant terms algorithms.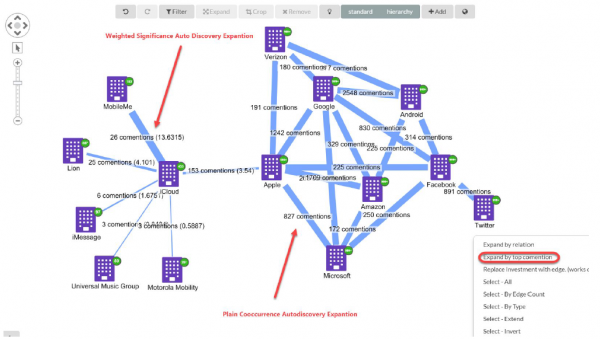 (On the right side of the pic, the "simpler version": an instantly generated co-occurrence graph)
Now cooking for 2017: Siren 5 and Kibi 5
Kibi 5 is coming and will be based on the new Siren 5, AKA – "The Platform".
"The Platform" is not an evolution but a complete ground up rewrite which paves the way to Kibi for the years to come. With support for relational algebra in a distributed way inside Elasticsearch 5+, Siren 5 dramatically improves scalability as well as providing all sorts of join features, operators and integration of additional data backends.
The result is that you'll witness Kibi 5+ continue and extend its ability to deliver never before possible real time/cross backend/relational data intelligence.  Stay tuned for more news.
… + Kibi Vertical Editions.
Thanks to the feedback and the sponsoring of a number of companies in these fields, we're glad to announce that in 2017 we'll be launching several Kibi Vertical Editions.
These Editions will come with domain specific components visualization and data ingestion components, collaboration features and integration with relevant pre-existing datasets.
During the course of 2017, we'll have time to talk in detail about them; in the meanwhile enjoy these screenshots of the forthcoming Kibi SIEM and Kibi Life Sciences Editions.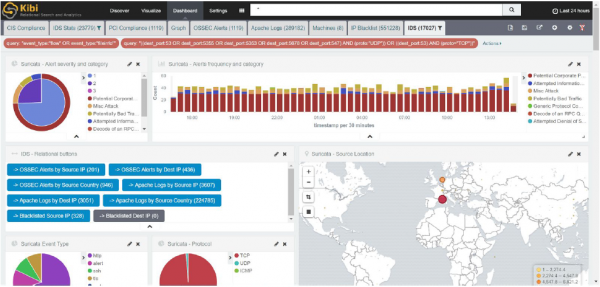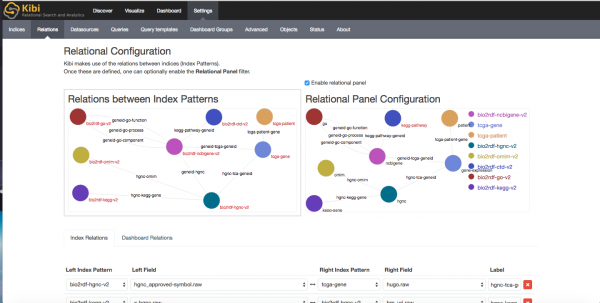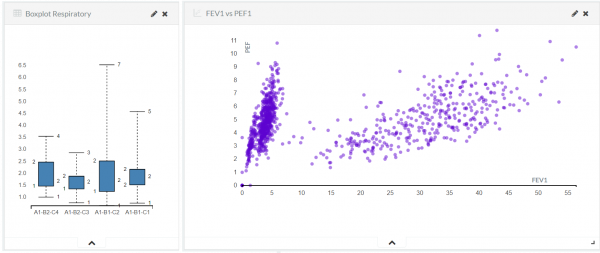 Stay tuned
This was a long and juicy update. Stay tuned for what is going to be a very exciting 2017, by signing up to our newsletter bellow and our youtube channel.
Cool stuff? Pls share
---
Also published on Medium.