Update: "Kibi" is now "Siren Investigate", "Vanguard" is now "Siren Federate". Both are included in the Siren Platform.
We are happy to announce the availability of Kibi 5.4.0 – beta 2, which inherits all the Kibana 5.4 features and introduces some great new usability features of our own. In addition we have a maintenance release Kibi 4.6.4-4.
Dashboard Management Made Easier
Kibi is all about making it clear how to navigate and correlate cross dataset and cross streams. The new Kibi side panel allows the analyst to view all the available dashboards at a glance. If a dashboard has an associated "saved search" then it will show the associated number of results in the current state (filtered or unfiltered).
The numbers are then shown in the side dashboard, along with icons to indicate if filters are applied. As in the previous sidebar, a special highlight will indicate the destination dashboard when hovering on top of one of the relational pivoting buttons.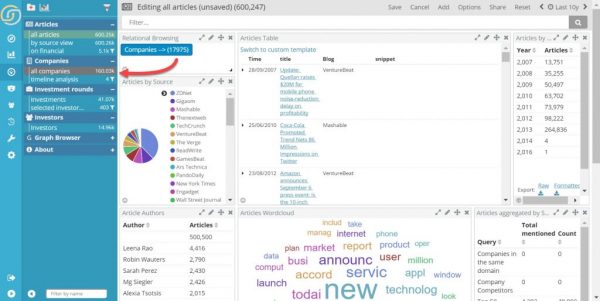 All operations are intuitive: with drag and drop, and contextual menus one can create, delete, rename and reorder both dashboards and groups. Groups have an easy icon picker.
Multiwidget Autoconfiguration
Our Multiwidget Component now comes with a very nice feature which creates reasonable initial default configurations for each field in your index. Over 40 statistical tests are executed to choose both the type of visualization (e.g. barchart, piechart, table) and the parameters. These configurations can then be manually tweaked and saved along with the component.
With the result that in a few clicks you have a full metadata explorer which can be embedded in dashboards and used to drill down dashboard filtering on any field value.
See this feature in action here:
Column Aliases & Column Resize
Kibi now allows you to rename and resize record table column headers.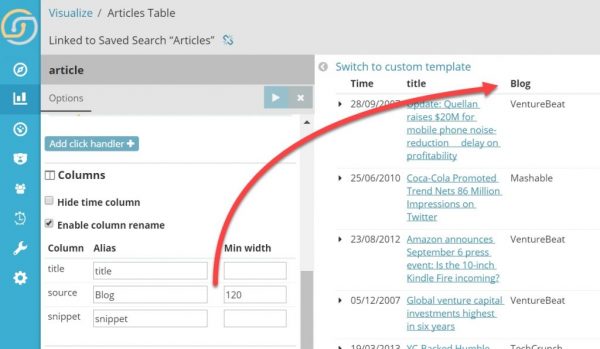 Unfortunately Elasticsearch doesn't have (nor plan) support for field renaming, so you still have to use the original names when querying, but Kibi gives hints to help with this:

Enhanced Enterprise Security
Kibi 5.4 adds support for Kerberos/JWT. In addition to existing support of active directory and LDAP i Kibi, this pretty much completes support for the most commonly used enterprise security configurations.
Licence
The Kibi 5.4.0 beta release is not intended for production deployment. For this reason it is exclusively licensed for demonstration and trial purposes only. Free use terms and commercial licensing term will be announced with the production release.
Download
The Kibi releases are available on our Customer Portal.
Make sure you're signed up to our Newsletter to be always informed about updates and new releases.
Sharing is caring: please, let us know what you think about Siren Kibi on Twitter, for any enquiry feel free to contact us at info@siren.solutions.
---
Also published on Medium.