We are very excited to introduce our first new release in 2021: Siren Platform version 11.1.
Representing a solid advancement across the board, version 11.1 focuses on the following factors:
Ease of use and control – New functionalities, such as the Siren Search UI, which gives a familiar "search engine feel" to business users and is also available on mobile devices.
Advanced auditing and security – Siren Platform is now meeting the needs for security and advanced accountability of investigators in some of the world's most secure organizations, with deep auditing and end user certificate capabilities.
Link analysis – With a redesigned back-end system, graph operations are now up to 8x faster with many fold scalability increases in graph size and a new UI, designed to be customizable and accommodate many new functions.
Elasticsearch compatibility – Siren Platform is now compatible with Elastic Cloud Enterprise (ECE) and Elastic Cloud Service.
Key Features of version 11.1
Deep auditing
The Siren Investigate session audit feature allows you to log and perform internal audits on sessional user data. In version 11.1, this feature is now more business friendly, making it easier to access, read, and understand user behaviour at a much higher level than existing audit logs.
Also, version 11.1 introduces the ability to know if an analyst was ever shown a specific bit of information – for example, did the name "Siren" ever display as a result in a visualization at any time?
Low-level auditing is complemented by a set of dashboards and a data model, typically live in their own "Auditing dataspace" and accessible only by administrators.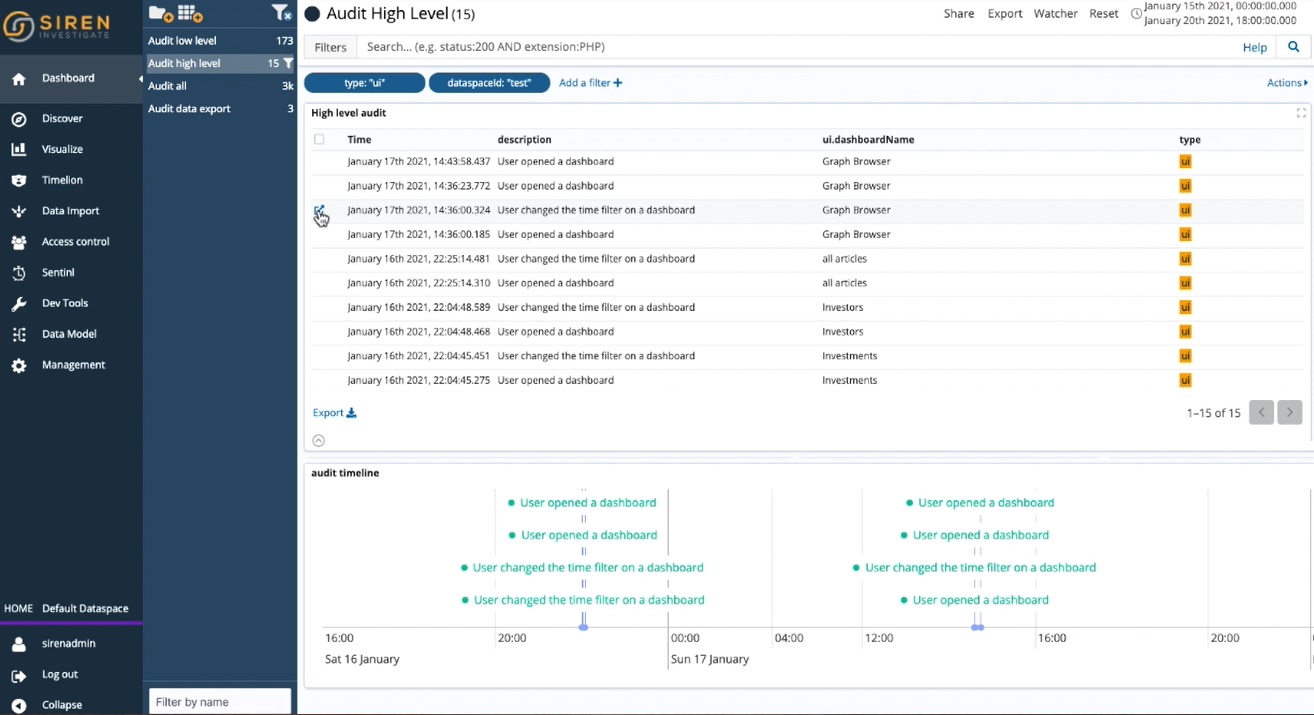 Siren "Search" interface
Siren Platform provides full-text search with support for misspellings, phonetics, relevance ranking, highlighting, and mobile compatibility, but – most significant of all – associative navigation capabilities.
In the fictional data example below, a user enters part of a name of a suspect and intuitively navigates the results, filtering with configurable facets and sorting by predefined criteria.
Results are shown as a rich card, which allows navigation between the connected records – in accordance with the Siren-defined data model. Users can navigate with ease, also on mobile devices.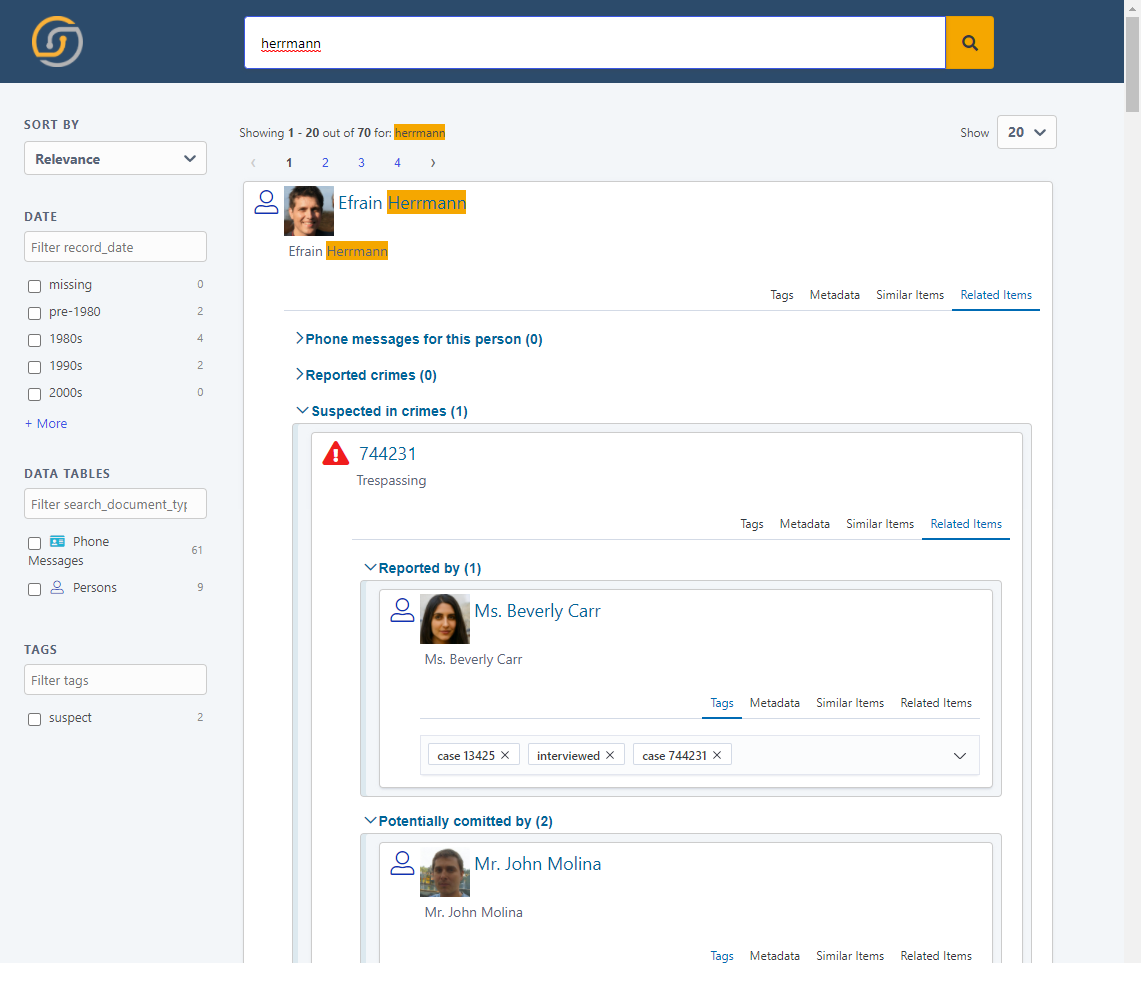 New link analysis engine: 2 to 8 times faster across the board
Investigators need link analysis to see and explore connections between records. Siren Platform's built-in link analysis allows the exploration of every record. This core capability has been rewritten in version 11.1 and now performs 2 to 8 times faster across most functionality, from user driven node expansions to graph algorithms such as shortest paths.
Take a look at this quick comparison between Siren Platform versions 11 and 11.1 on a drag and drop expansion of 500 articles in our classic demo.
Also, notice how version 11.1 features a new graphic toolbar that offers easier accessibility and new layout functions and is ready for many new functions and simplifications (for example, easier-to-activate graph metrics), starting from version 11.2.

Shortest path is considerably faster on Elasticsearch version 7.10 or later, as it can leverage the new Siren Federate index join strategy, which is particularly suitable for shortest path searches.
Easier to access data model
The Siren Platform data model (where index patterns/searches and relations live) is now easier to access and switch to and can be easily made available to non-administrative users, who usually cannot access the configuration section.
You can now find the data model in a dedicated app, here: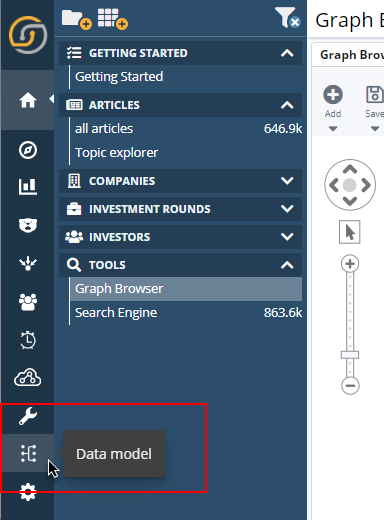 Need help? (Offline) docs are easy to access
Every Siren Platform deployment now includes offline-accessible docs. The Siren docs are pretty extensive, check them out.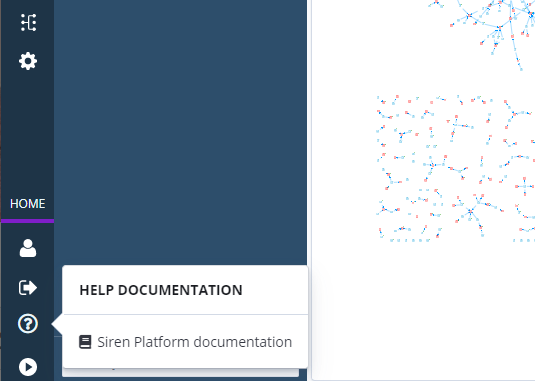 ECE and Elastic Cloud Support
Version 11.1 introduces support for running on top of the Elastic.co partner products, Elastic Cloud and Elastic Cloud Enterprise. This is made possible by the latest version of Siren Federate – a Siren Elasticsearch plugin that offers real-time data joins and other capabilities – which can now be successfully uploaded and installed on Elastic Cloud and ECE.
User Certificate Support
Siren Platform now provides easier support for end user certificates.
Get it now!
We're extremely excited about Siren Platform version 11.1 and we believe you will be too. Here are some ways to get started:
Note: "File:Hand Gesture – Raising a Trophy Vector.svg" by VideoPlasty is licensed under CC BY-SA 4.0
---
Also published on Medium.