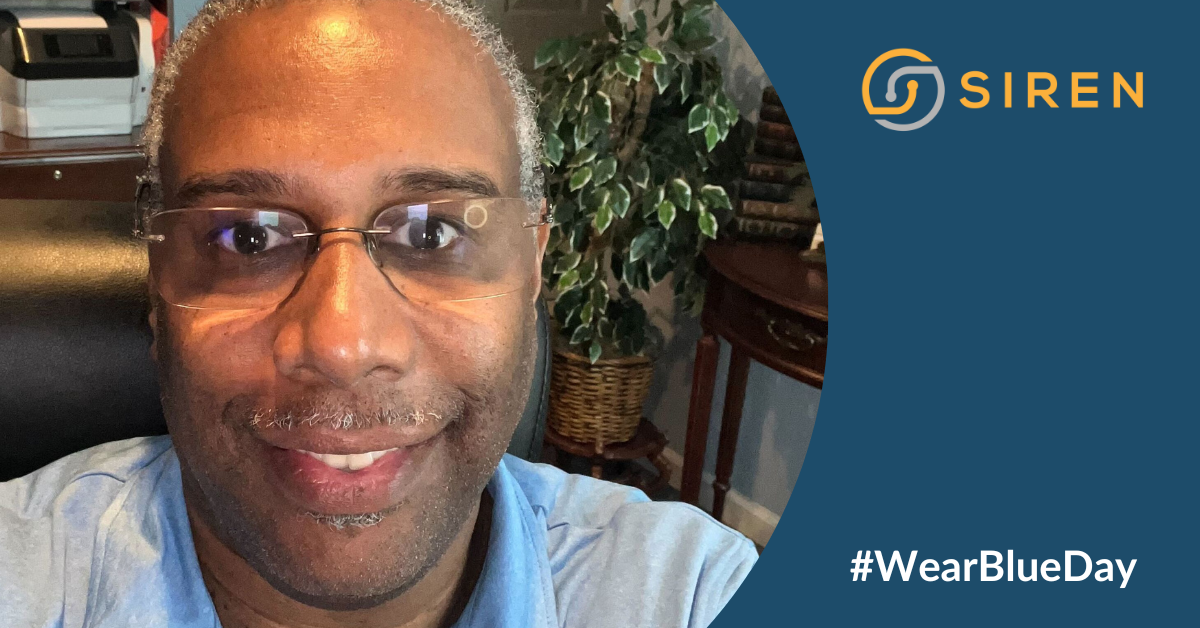 Slavery in any form is despicable.
National Human Trafficking Awareness day occurs here in the US on 11th January and I am delighted to show my support of the DHS Blue Campaign by wearing blue. Blue Campaign is a national public awareness campaign to educate the public, law enforcement, and other industry partners to recognize the indicators of human trafficking, and how to appropriately respond.
My first exposure to slavery outside of the history books came as a result of work that my wife, Lorraine Thompson Baron was doing while we lived in Georgia. After receiving her Master's degree in Human Services she was hired by a residential living facility for girls and women, Wellspring Living. Wellspring Living is a non-profit organization that provides domestic sex trafficking victims and those at risk with specialized recovery services. The programs provide transformative care through therapy, education, life skills, personal and professional development. The focus is on developing courage to move forward and confidence to succeed.
Lorraine designed programs to nurture the necessary skills to transition out of "the life" of someone who has been trafficked. She offered victims personal and professional development opportunities to equip them to reintegrate into society.
I was genuinely horrified to hear the stories of runaway girls who were seduced by pimps showering them with affection. Once the girls were under the spell, they would often be tattooed with the pimps' name, a modern day version of branding with a hot iron, and sold on to be abused on a regular basis. Any external parties aware of the activities would be paid off to turn a blind eye.
If you or anyone you know has been affected by these or similar issues don't hesitate to contact the US National Human Trafficking Hotline.
Considering our interest in the cause, much to my joy, shortly after starting to work at Siren, I learned that The Anti-Human Trafficking Intelligence Initiative (ATII) wanted to use our software. The ATII aims to disrupt the market of human trafficking, child exploitation, and child sexual abuse material (CSAM) through prevention, detection, investigation and reporting. They wanted to give their analysts a better tool for conducting investigations involving collecting data from a variety of disparate sources (e.g., crime databases, dark web, deep net) and quickly connecting the dots across the data to identify individuals and networks involved in human trafficking.
This was a real opportunity to use technology for good and we took it. Since then Siren has also provided a license to the National Child Protection Task Force (NCPTF) an organization which provides services to other organizations devoted to eliminating human trafficking, white slavery and child exploitation. The NCPTF was founded to provide detectives, analysts and officers access to investigative expertise and resources that are unavailable or under-funded in most law enforcement organizations. The members volunteer time to any agency, small or large, international or local, on important, time-sensitive cases.
Siren allows organizations like ATII and NCPTF to quickly ingest data as diverse as digital forensic images from cellphones and computers, call detail records, public databases, machine logs, block chain data, metadata from digital media (images, audio, video), social media, news streams, corporate entity records, and various corporate databases (shipping manifests, trading transactions). These data sources are where the breadcrumbs of human trafficking activity can be found. Once the data is accessible to Siren, we provide analysts a variety of ways to see the data to surface the non-obvious connections.
I'm proud to say that we now offer our software without a cost to eligible NGO agencies that are actively involved in investigating human trafficking.
Get in contact with me today by completing this form to see if you feel we can help.
https://info.siren.io/anti-human-trafficking/intelligence
#WearBlueToday