We are happy to announce 2 big releases:
Kibi 4.6.4-1, based on Kibana 4.6.4 – working on Elasticsearch 2.3+
.. and yes, Kibi 5.2 (!) Beta-1, which requires Elasticsearch 5.2 or later.
Kibi 4.6.4-1
Community and Enterprise Edition Improvements
Merges all upstream changes from Kibana 4.6.4;
Column name aliases in Kibi Doc Table plugins;
Reordering of dashboards in groups and tabs;
Option to increase grid resolution;
kibi:enableAllDashboardsCounts to disable counts on all dashboards and kibi:enableAllRelBtnCounts to disable counts on all relational buttons;
Improved relational configuration with search function;
Auto short URLs & short URL sharing;
Handling of relations between two types within the same index;
Queries entered from the search bar contribute to the ranking.
Only Enterprise Edition improvements
Security & Collaboration: Dashboard Level Object Access Control – hide dashboards and visualizations, share objects based on roles;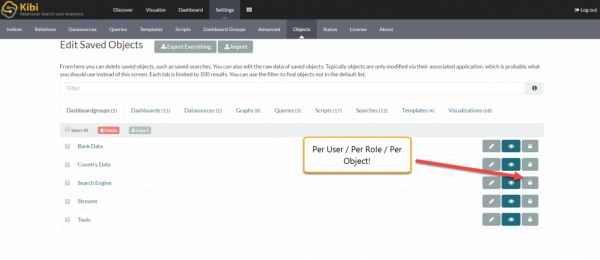 Custom results templates in search results view: make results show up as anything you'd like (e.g. custom cards per type etc);

Gremlin Server now uses the Elasticsearch REST API instead of the transport protocol – much simplified security configuration;
For integrators: service to expose methods for cross frame communication;
Kibi Vector Map plugin;

Kibi Horizontal Bar Chart plugin;
Kibi Scatter Plot plugin;

Kibi Advanced Box Plot plugin;

Kibi Multi Chart plugin (animated gif below), store multiple presets (of multiple types of components) & switch on the fly, also in dashboard mode. Really useful to allow one to do "faceted search" also (e.g just store presets for the most important variables one typically drills down for and you have a convenient user interface);

New Kibi Bubble Diagram plugin (shown also in the multichart);
Graph expansion can be filtered by "dashboard filters";
Improved field formatter support in Graph Browser tooltips.
You will find the full list of improvement on our Customer Support Portal for versions 4.6.4 and for 4.6.4-1.
Kibi 5.2 Beta-1 (and few words on the future)
Kibi 5.2 Beta-1 is is our brand new platform supporting Elasticsearch 5.2 or later and based on Kibana 5.2. Grab your copy today on our our Customer Support Portal.
The New Backend
This version is the first Kibi to feature our new Join backend technology. This new plugin replaces the previous "Siren Join" plugin – and provides the backbone for even greater scalability & performance as well as the basis on top of which we will roll out federation across multibackends & native SQL support in the next months.
Stay tuned for a blog post specifically on this and more information on the general availability of the Siren backend technology for use also outside Kibi.
The Look & the New Dashboard Bar
First of all Kibi 5 brings widget borders back to dashboards. We feel this brings considerable added clarity as opposed to Kibana – however, you do get an option to switch them off if you like.
Have many dashboards? You'll enjoy Kibi 5 new collapsible bar where Dashboards and Dashboard Groups live and are visually edited/reordered.Relational buttons interact with the bar, highlighting on hover the destination of the pivoting action.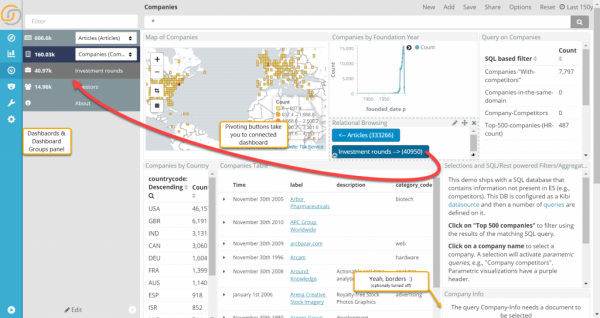 From Dashboard Groups To "Workspaces"
The dashboard spaces is going to evolve more and more into a shareable/collaborative "Workspaces" where investigations and incidents can be saved, shared and reopened when needed.
This is a work in progress so keep tuned, details as soon as we roll it out.
These have been super busy days. Starting from our investment we are expanding (hitting 20 people this month) and watch this space for a new website/announcement coming pretty soon.
In the meanwhile, we hope you will enjoy these improvements and look forward to hear what you think about Kibi:  right bellow you can use the social links to share the information and don't forget to sign up to our newsletter to be always informed about updates and new releases.
---
Also published on Medium.